The Regulator has a factory preset fixed static outlet pressure of approx. 4.2Kg/Sq.cm (60Ibs/sqin) and is fitted with safety valve. Once the flowrate has been set, the regulator will automatically maintain a constant flow rate irrespective of changing volume of cylinder contents. If the oxygen line distal to the regulator should be blocked, the regulator automatically prevents the build up of an excessive pressure in the apparatus and tubing between the outlet of the regulator and the obstruction. A pressure gauge indicates the cylinder contents.
AIRWAYS NITROUS REGULATOR
Designed to provide accurate regulation of corrosive as well as non-corrosive/toxic gases, we provide the exposed parts of the regulator in medical grade stainless steel finish in support of other materials so as to deliver optimum functional support. Further, the presence of specially designed diaphragm also
provides for maximum accuracy as well as stable regulation of delivery pressure. The offered regulator can also handle internal vacuum and can be made
available in diffusion resistant finish.
F/A (Fine Adjustment) VALVE WITH GAUGE, GAUGESAVER & FLOWMETER
This specially designed unit helps in reducing cylinder pressure by providing variable restriction to flow of Oxygen from cylinder outlet. Further, with the reduction in volume of oxygen present in cylinder, flowmeter needs to be adjusted accordingly to maintain required flowrate. We also offer flowmeter unit without control that comes fitted with jacketed type shatter proof tubes which are calibrated from 0-15ltrs/min.
Note : Flowmeter without control which are used in F/A Valve should not be used with Oxygen Regulator.
These BPC flow meters are constructed using latest technical improvements being made so as to ensure precise measurement of the flow. Plastic BPC comes with rotary pin valve control so as to permit adjustment of flow rate to desired level which is between 0 – 15 ltrs/min.
Humidifiers offered comprises unbreakable jar finish that comes with screw on cap that is fitted on side outlet tubes as well as on top inlet. These inlet tube ends in diffuser where oxygen is bubbled through water before reaching outlet point.
| | |
| --- | --- |
|         Code No.        | Product Name |
| 1730 | Humidifier Screw-on Type |
| 1731 | Humidifier With "s" Hook |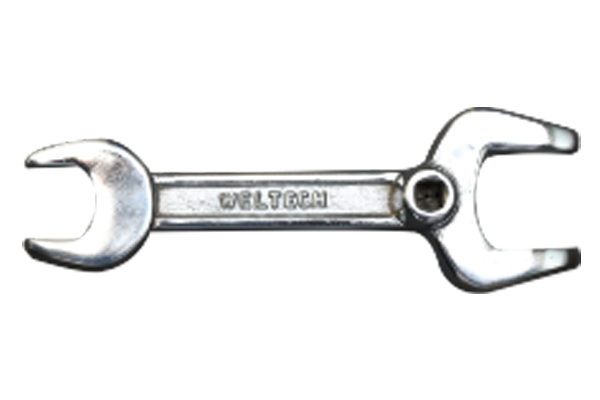 COMBINATION KEY & SPANNER
for fitting Regulators & F/A Valves onto cylinders & for opening Bull Nose type Cylinders. Cannot be used to open Pin Index type cylinders.
| | |
| --- | --- |
|         Code No.        | Product Name |
| 1728 | COMBINATION KEY & SPANNER |
| 1729 | KEY FOR PIN INDEX CYLINDERS |
| 1727 | MULTIPURPOSE |